Thanksgiving. It's not 4/20 or 7/10, but it is the next best weed holiday. (And the best holiday overall, if you ask us…)
It's a time to give thanks for all that you have, to indulge in delicious food, and to enjoy the company of family and friends. Possibly for the first time in two years, since last year's Thanksgiving was hosted by COVID.
But as decadent as Thanksgiving can be, it wouldn't be complete without family drama, lots of hours spent in the car, and eating to the point of discomfort. Lucky for you, we have some weed goodies that can help to mitigate those situations and maybe even make them enjoyable. Call it our contribution to your Thanksgiving potluck.
Read on for the weed you need to make this Thanksgiving the best one yet.
THC & CBD Vapes: To Make It Through the Long Trip Home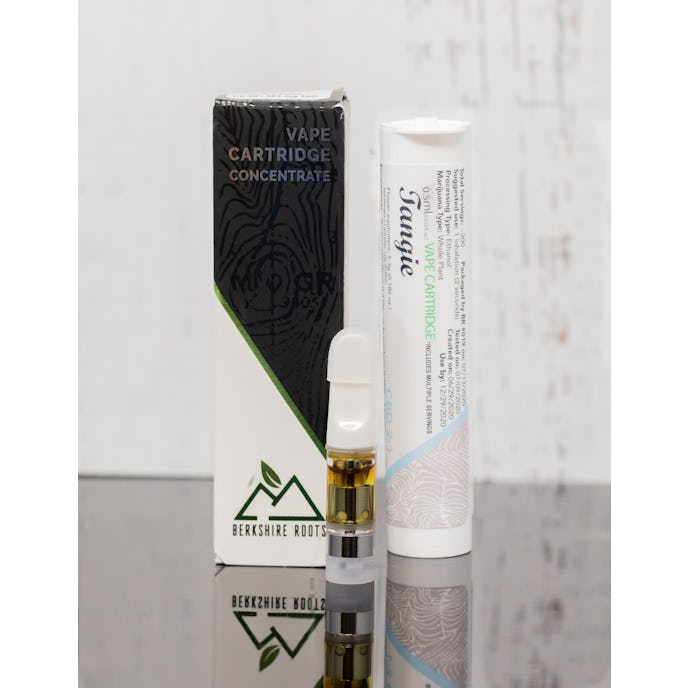 If you're driving home by yourself, a CBD vape is going to be your best bet because CBD is non-intoxicating. Don't drive while under the influence of THC.
Using a high-CBD vape, like Berkshire Roots' 2:1 Cart, will help you to relax and focus without impairing your driving. The roads are always packed over Thanksgiving weekend, so the more calm and alert you are, the better.
If you're lucky enough to be a passenger on the drive home, we suggest trying 253 Farmacy's Disposable Crescendo Vape to make the most of the long car ride. Crescendo is a Sativa-leaning hybrid, so you'll be able to stay awake to keep your driver company, but it still has the grounding effects of an Indica that'll leave you feeling calm and happy, which is the exact headspace you'll want to be in when you arrive for the festivities. Plus, since it's a disposable vape, you can toss it before you head inside, in case the rest of the family isn't into the idea of a weed Thanksgiving.
(New!) Edibles: To Make the Job of Thanksgiving Host Easier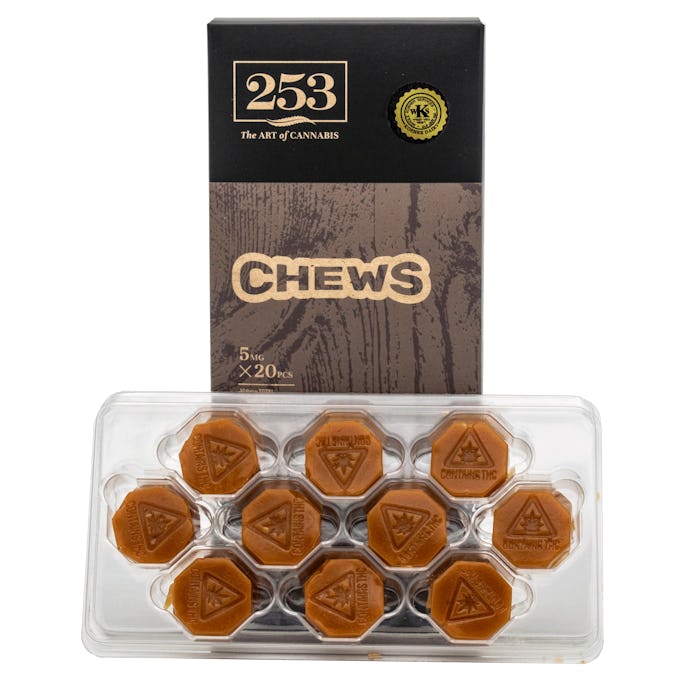 If you're hosting Thanksgiving this year, you're fortunate to not have to endure the long trip home. But hosting comes with its fair share of difficulties, nearly all of which can be softened with the help of edibles.
253 Farmacy just released new caramel chews in time for your weed Thanksgiving, and they're exactly what you need to relax when you've got a crowd of people staying in your space.
After quarantine and the peak of COVID, it could take some adjusting to get used to having people in your home again. Our new caramel chews can help. Each chew has only 5mg of THC, so you can dose as high or low as you want depending on what you have in store for the day.
If you've got a big cooking day ahead of you, we suggest starting with just one. It'll be enough THC to help your body and mind relax into the flow of cooking without knocking you out. (Depending on your tolerance, of course.) And you can always have another if you need it.
If you're done with cooking and entertaining and just need to sleep after hosting all day, consider having a few before bed. Edibles impart both a body and a head high, so they can help lull you to sleep even if you feel like you haven't calmed down from the busy day yet.
Flower: To Get the Most Out of Your Thanksgiving Meal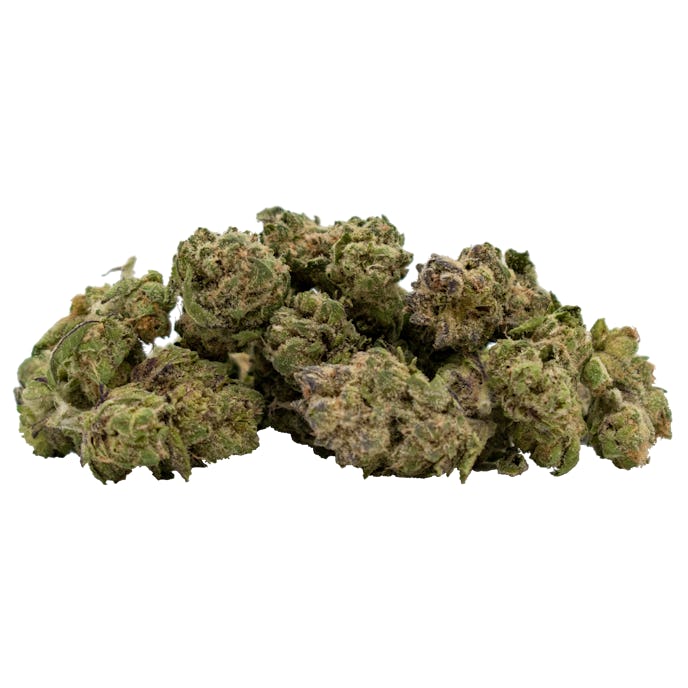 For the best part of Thanksgiving—the food—we have just what you didn't know you needed. Now, we don't necessarily require any convincing to indulge in a good Thanksgiving meal. But trust us when we say that the right flower can really enhance the experience.
Our go-to weed Thanksgiving flower is Pineapple OG. It's a Sativa-dominant cross between Pineapple Express and an unknown OG Kush hybrid. Although we don't know which OG Kush hybrid is behind it, we do know that anything OG Kush is going to induce some serious munchies, which makes it a great choice for dining on a delicious Thanksgiving spread.
This particular flower also has a fairly average-to-low amount of THC (less than 17%), so it won't take you so high you can't still participate in family dinner conversation. (Unless you decide to consume a lot. Do what you gotta do.)
With an upbeat and energetic high, you won't even care that your aunt and your mom are arguing or that your brother won't stop nagging you. Just ask them to (puff, puff) pass the stuffing.
Concentrates: To Deal With Family Drama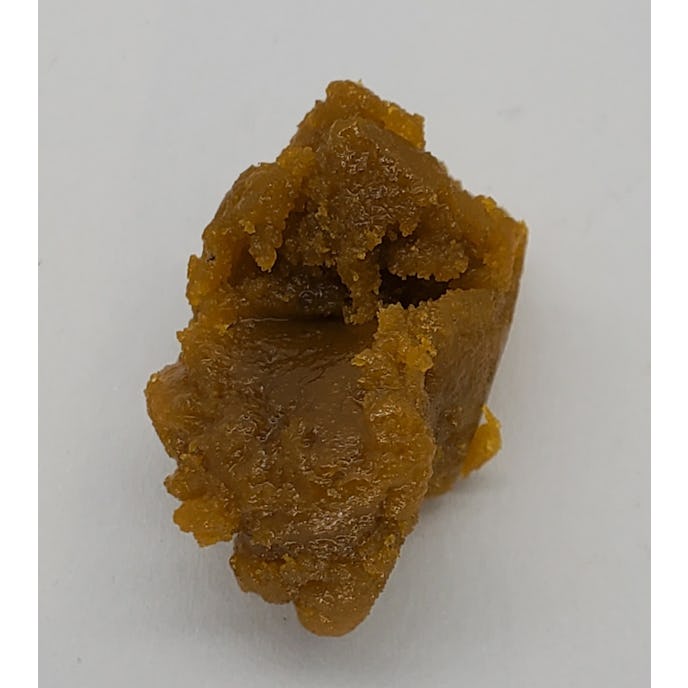 It wouldn't be Thanksgiving without some family drama going down, especially in today's world of pandemics and politics. And especially if alcohol is involved.
Fortunately, we have something better, and more helpful, than alcohol—cannabis concentrates.
Our favorite concentrate for a weed Thanksgiving is our Early Lemon Berry Live Batter. It's made from cannabis flower that hasn't been dried or cured, so it retains the full flavor profile of the plant, which is on theme for a flavorful food holiday. But more importantly, as an evenly balanced hybrid, it has both Indica and Sativa effects, so you'll feel calm and happy while still being present and alert. In case you need to play peacemaker. (Or in case you need to leave and go do something fun to maintain your own peace.)
Of course, traveling with a dab rig might not be the best move, even if your family is down for a weed Thanksgiving. Instead, try a portable option like the Pulsar Quartz Dab Straw we have at 253 Farmacy. It offers a quicker, easier way to dab. Because sometimes you need to clear your head of the drama right now.
Tinctures: To Prep for Black Friday Shopping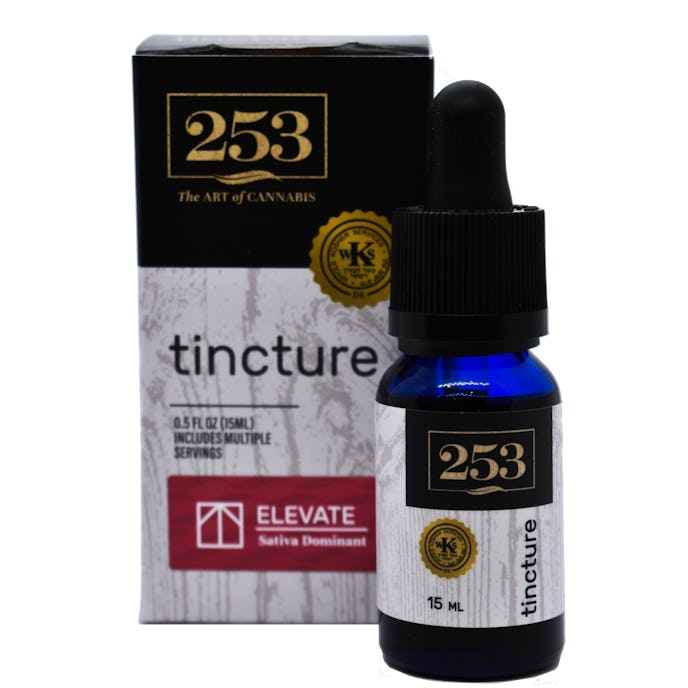 Whether you're heading to the outlets at 3 AM or logging in online the second you finish your Thanksgiving dinner, Black Friday shopping requires a level head. It can get weird out there.
For the best Black Friday experience, we suggest trying 253 Farmacy's Sativa tincture. Featuring a blend of our favorite 253 Sativa strains, it's quick, easy, and discreet to use, so you can concentrate on the task at hand. It'll keep you calm amidst the chaos, and it'll help you stay focused and inspired while you sort through Black Friday deals and merchandise.
You might even be able to knock out all your Christmas shopping before December.
Weed Thanksgiving: Your New Tradition
Of course, if you're embracing a weed Thanksgiving this year, be mindful of your host and their house rules. Fortunately, the weed products we recommend for an elevated Thanksgiving experience are all discreet and portable, so you can easily partake away from the house and avoid offending anyone. And if the products we mentioned aren't exactly what you're looking for, stop by 253 Farmacy and talk to one of our budtenders about your needs before you head out for the holidays. We're always happy to help!
If you do give weed Thanksgiving a try this year, let us know how it goes the next time you visit us at 253 Farmacy. We have a feeling weed Thanksgiving may be your new tradition. (If it hasn't already been one.)