Explore Our Most Popular Products From Trusted Massachusetts Cannabis Brands
Welcome to 253 Farmacy– Turners Falls' best dispensary! We carry all of Massachusetts' favorite weed brands in our recreational dispensary, easily accessible from Vermont and New Hampshire. It can be hard to decide what to add to your cannabis order. Need suggestions? Check out these products our customers can't get enough of!
One of the weed products we are best known for is our potent, pure, and flavorful concentrates! Customers drive from Vermont to shop at 253 Farmacy because we carry top quality extracts from the best Massachusetts concentrate brands, such as Nature's Heritage, Rave, Root & Bloom, Sira, and best of all: our cream-of-the-crop proprietary extracts brand: 253 Farmacy.
Two of the most potent & popular Massachusetts cannabis concentrates on our menu are:
Batter (aka badder) is an air-whipped weed extract, rife with terpenes, THC, and other cannabinoids. 253 Farmacy's batter is created in-house, to ensure the ultimate in potency and purity. Batter can be dabbed, vaped, or added to bowls, joints, or edibles for a power-packed high!
253 Batter Cake Crasher is extracted from indica cannabis strain Cake Crasher, a genetic cross of Wedding Cake and Wedding Crasher. Savor its fruity, gassy aroma and enjoy effects that are both euphoric and relaxing.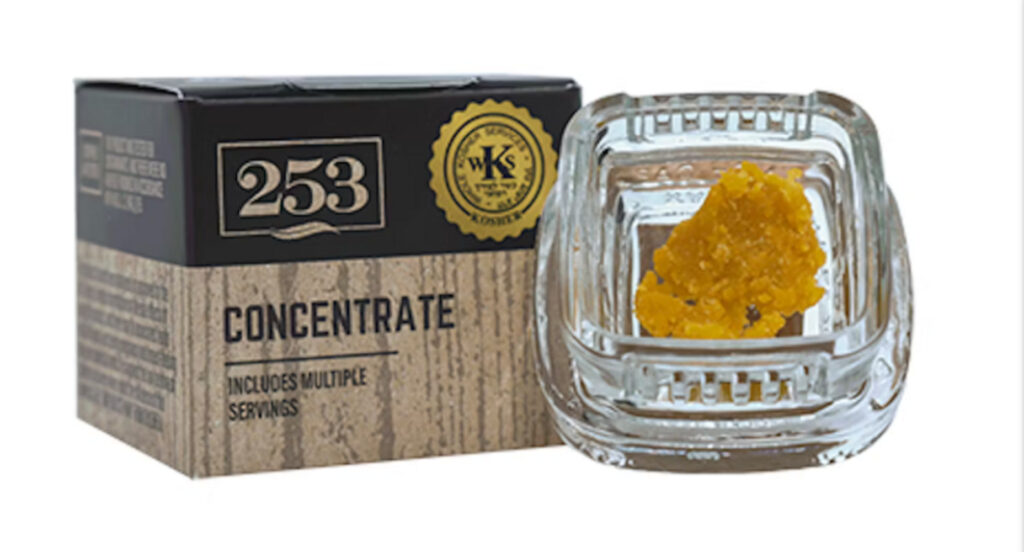 Have you tried moonrocks? They'll get you really high, but you don't have to travel to the moon to get them– just come to 253! Moonrocks from top Massachusetts weed brand Sira are premium cannabis buds, infused with top-quality hash oil and keef. This boosts your bowl with extra-potent flavor and effects– nearly double the potency of flower alone! Sira Moonrocks are available in energizing sativa or soothing indica options.
Edibles are always a fan favorite! With seemingly unlimited flavors and customizable cannabinoid effects, edibles are a popular choice for weed newbies and experts alike. Our extensive menu includes all of the best Massachusetts edible brands, including 1906, 253 Farmacy, Betty's Eddies, Camino, Hi5, Kiva, Lost Farm, SunDrift, Wana, and more!
Gummies are the most popular edible product on the market, and our 253 customers love these two nighttime gummy options. Both are formulated to potentially ease insomnia:
Camino Midnight Blueberry 5:1 Gummies
With a 5:1 ratio of THC to CBN and the lip-smacking flavor of fresh blueberries, Camino Midnight Blueberry 5:1 Gummies are specially formulated to potentially help you fall asleep faster and stay asleep longer. Indica terpenes are boosted with the addition of soothing chamomile and lavender. Get on the road to good sleep with Camino!
Wana Classic Optimals Dream Berry Stay Asleep Gummies
Ease off to dreamland and stay there with the potentially sleep-inducing power of Wana Classic Optimals Dream Berry Stay Asleep Gummies! With a custom blend of THC, CBD, CBN, and CBG, along with restful terpenes, these gummies from trusted Massachusetts edible brand Wana are designed to give you a better night's sleep, with no lingering next-day effects.
Cannabis vapes are user-friendly, discreet, and effective. Mix up your high with vaporizers and interchangeable cartridges & pods from Massachusetts cannabis vape brands like Pax, Slick, and our premium in-house vape brand: 253 Farmacy! What's the best cannabis vape in Massachusetts? Our customers love this one:
253 Frozen White Runtz Diamonds & Sauce Cart
The potent THC + terpene power of diamonds & sauce– in a cart! Premium hybrid strain Frozen White Runtz is a cross between White Runtz & Gelato 41. The potent weed extract in our 510-threaded Frozen White Runtz Diamonds & Sauce Cart has a creamy, sweet flavor and potentially stress-busting effects.
Now that you've read about other people's favorite products from 253 Farmacy– come find yours! Visit 253 Farmacy today and talk to a budtender, or shop our premium menu from home and pick up from our Tellers Falls' dispensary at your convenience. See you soon!
253 Farmacy
Founded in 2019, 253 has grown to become a premier name in Massachusetts Cannabis. Being owned and operated by Massachusetts locals, every decision made at 253 puts people first. From customers to employees to industry partners, earning and keeping their trust is placed front and center of 253's mission. To honor this pursuit, the highest respect is shown to the cannabis plant and the products forged from it. Nowhere can you find a more artful and humble approach towards all things cannabis than at 253. Experience The Art of Cannabis today.
Lifted
Introducing our budget-friendly Lifted cannabis flower, your ticket to a first-class cannabis experience at economy prices. Lifted flower may not be the fancy, private jet of the cannabis world, but offers the same smooth ride for a fraction of the cost. Each pouch of flower is packed with potent, aromatic strains that will take you on a journey of flavor and relaxation.
You'll find that Lifted flower is the budget airline of the cannabis world, offering a comfortable and enjoyable trip without breaking the bank. So why pay for a private jet when you can fly first-class on a budget airline? Try Lifted cannabis flower today and see for yourself!
SLICK
Welcome Slick to the 253 family of products! Slick vapes offer the perfect blend of high-quality cannabis oil and sleek, convenient design. Each cart is filled with pure, potent cannabis oil, carefully crafted from the finest material using only cannabis derived terpenes for flavor- no synthetics!  But our carts aren't just about great taste and powerful effects. They also offer unbeatable value that can't be matched by the big, mass-produced brands. So if you're looking for a premium cannabis vape experience that won't break the bank, look no further than Slick vapes.