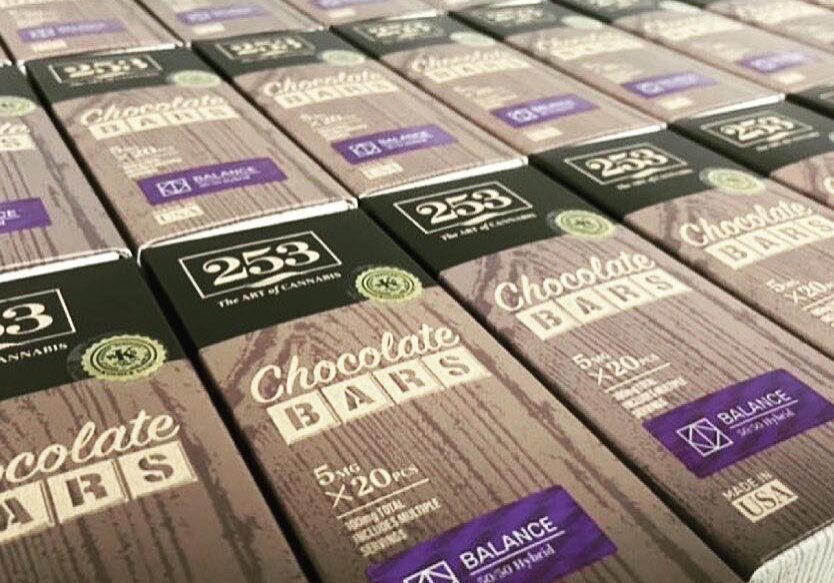 High Quality Edibles from 253 Farmacy
At 253, we believe that quality is worth the effort, especially when it comes to products for consumption. Although it's practically unheard of in the cannabis industry, we are a kosher-certified facility. This means that every last ingredient that comes through our top-tier commercial kitchen is sourced ethically and humanely, and you never have to worry about the addition of unpronounceable contaminants being added to our products.
We go to great lengths to maintain strict quality guidelines, and our original recipes feature entirely unique, natural flavors that won't leave you feeling as though you just swallowed a nondescript helping of artificial additives. We understand that cannabis edibles are an enjoyable and beneficial part of many of our customers' daily routines, so we work hard to earn their trust time and time again by maintaining a rigorous level of quality.
Our chocolate bars are made with 100% Kosher Dairy, Callebaut's finest dark and milk Belgian chocolate and distillate oil. Our chocolate bar box comes with 2 bars, and each bar is composed of 10 individual squares for a total of 50mg per bar.
What are Edibles?
Cannabis edibles are simply delicious treats that have been infused with THC. Although edibles may feel like a distinctly modern creation, they have existed in some form for thousands of years.
Cannabis enthusiasts have been consuming edibles since ancient times when eating resin flowers was found to aid with mental expansion. This method of ingesting cannabis has some interesting advantages over smoking for those who aren't keen on lighting up. Those who want a high degree of control over the amount of THC they consume, and who prefer to enjoy a longer-lasting high often find that edibles suit their needs perfectly.
Edibles are precisely labeled with the amount of THC they include. The nature of crafting edibles allows for total control over the dosage, and the way that edibles are metabolized allows many people to enjoy a much more drawn out high. We welcome you to indulge in a luxurious 253 chocolate bar today! Shop online and pick up in our Turners Falls, MA dispensary or use the product locator to find us at a partner dispensary near you!
Buy Edibles in Massachusetts